I have avoided this for as long as possible. BUT we need to explore some things that break our hearts. Now's the time to DIG DEEPER …
Pope Francis Warns Young Children: 'The Devil is Real'
Catholic leader tells children that Satan is their 'biggest enemy, and not a fairytale'
4. The ALL-SEEING EYE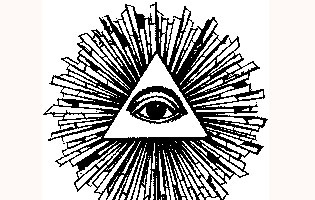 "The combination of the All-Seeing Eye floating in a capstone over a 13-step unfinished pyramid is the most popular Illuminati symbols and by far the most recognizable symbol of the Illuminati.
The eye represents the Illuminati ruling from their position on the capstone of the pyramid. They are very few at the top while we are many at the bottom.
The all-seeing eye on the pyramid was added to the reverse side of the Great Seal of the United States and finally adopted by Congress in 1782. In 1935, President and 33rd degree Freemason, Franklin Roosevelt added the front and back of the Seal to the one dollar bill!."
5. The Goat, called  BAPHOMET

"The name Baphomet first appeared as a pagan idol in the trial transcripts of the Inquisition of the Knights Templar. Eliphas Lévi's depiction of the goat-headed idol was used by occultists to depict the devil in the Rider-Waite tarot cards."
"One of America's classics has exposed the Illuminati in a place nobody would ever think to look—a doctor's office. According to Movie Pilot, the words on the eye chart made a subtle message and not a rambling of letters.
A sign in the back can be seen with the phrase, 'Ask about Illuminati,' on it," the article says. You have to wonder why that crystal clear statement was placed in a movie made for little boys and girls.  The world may never know."
'Mickey Mouse Clubhouse' Is An Eyeful
Source: https://www.therichest.com/world-entertainment/15-times-the-illuminati-appeared-in-kids-favorite-cartoons/
"The cat-and-mouse game could be blamed on Tom and Jerry's own warped relationship.
While the cartoon seems innocent (well, aside from the constant violence, of course), a few references are enough to sound viewers' alarm. In one scene, Tom and Jerry are competing in a race, and the boss of the scam had more than one eye on the prize. On his desk sat a golden pyramid with an eye smack-dab in the middle.
The animals and their audience were concerned with the competition, so nobody cared for the indiscreet details of the cartoon's scenery. "