Another DEEPER DIG, where we will find more connections to the topics already discussed and the people under our microscope. Let's start with a quote from Theo Gerken's

PIZZAGATE

blog …
From files of evidcen found in the Jeffrey Epstein case, to computer files and evidence found on Anthony Weiner's laptop, Rachel Chandler is knee deep in it, and the elites have been trying to cover all of this up.
But, when it all comes out, don't say we didn't warn you, or better yet, the Q team did warn us all. Rachel Chandler's so-called works in that casting agency, have much deeper connections to the Clinton Foundation than anyone knows, not unlike NXIVM, but seemingly on a much larger scale.
This is the Satanic worldwide cabal, and PizzaGate researchers have identified many culprits so far, such as Rachel Handler, John Podesta and James Alefantis.
————————————————————————————————————
Harrison Koehli
Sott.net
Wed, 16
Nov 2016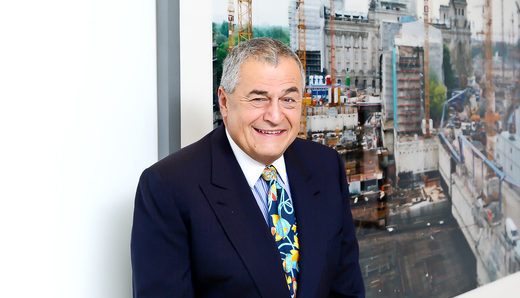 The Podesta brothers – John and Tony– are creepy.
Most recently, John was the Clinton campaign's chairman, but he has worked with Bill and Obama too. Tony is considered one of Washington's most powerful lobbyists….
Not knowing much about them – aside from the fact that Podesta is interested in UFOs – the first ping on my radar was the "spirit cooking" revelation from the leaked Podesta emails.The relevant email suggests that not only are Tony and John close enough to Crowleyite "magickian" and "artist" Marina Abramovic (https://www.inquisitr.com/3759785/pizzagate-marina-abramovic-spirit-cooking/) to be on a first-name basis with her, but also that they are familiar enough with her "spirit cooking" to know what that involves and presumably be fine with attending a session. The casual tone sounds as if the planned "dinner" was probably not their first. …
…  Here I'll present just the facts. Let's start with Tony.
On July 16, 2015, 
Politico
 published a 
photo essay
 "inside
Hillary's campaign headquarters"
that featured an image of John's office. On the wall is
a painting, on loan from his brother Tony, that features a suited man lying on a table, with two men standing over him. The visual suggestion – given the plates and cutlery held by the two – are that they are preparing to eat him. 
On April 28, 2016, 
Time
 published a 
feature
on John, in which the painting was described:
"On the wall in his office at Hillary Clinton's Brooklyn headquarters, campaign chairman John Podesta has an oil painting on loan from his lobbyist brother, who is an avid art collector. The image shows two men hunched over a dining room table, bearing knives and forks. On the table lays a man in a suit, who looks vaguely like Podesta. "It's better to be the guy with the fork," Podesta quips to his colleagues, if they ask about the image, "than the guy on the table."
… Laura Wainman wrote a piece on Tony's home, published for Washington Life on June 5, 2015. In it, Tony lists Louise Bourgeois and Marina Abramovic (of "spirit cooking" fame, see first paragraph above) as among his top five favorite "artists". But the first "artist" in Tony's collection mentioned in the article is Serbian painter Biljana Djurdjevic. Here's a selection of her work (more photos available here and on her website):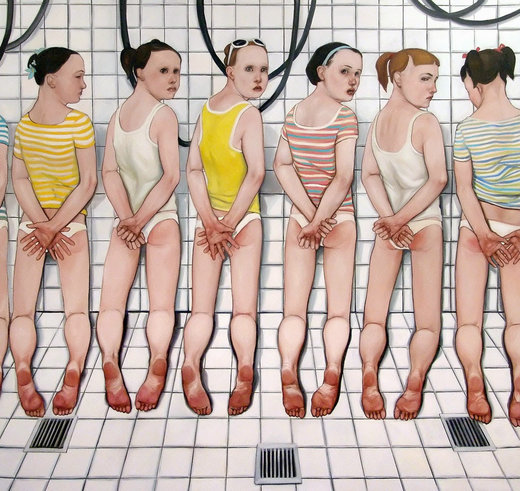 (The background for this was Gloria Vanderbilt's drained swimming pool!)
… This looks to be
Andrew Kline
of Veritas Law in Washington, DC, who practice business and property law. Kline used to be a
Bill Clinton appointee
, 
one of four attorneys in the Human Trafficking Prosecution Unit of the DOJ
. The infographic below shows a map of the street with all these businesses. Notice the logo for Besta Pizza, and the second business across the street, Terasol: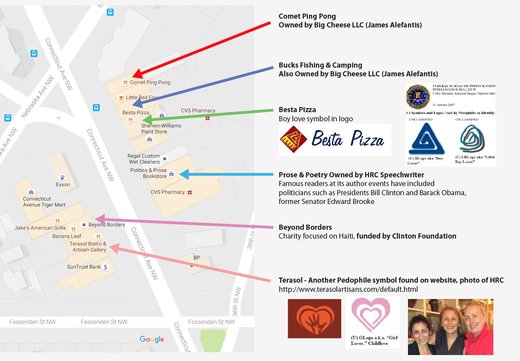 There is a "piece of artwork" that shows children wearing red shoes, but it's apparently been scrubbed. — PY
——————————————————————————————————–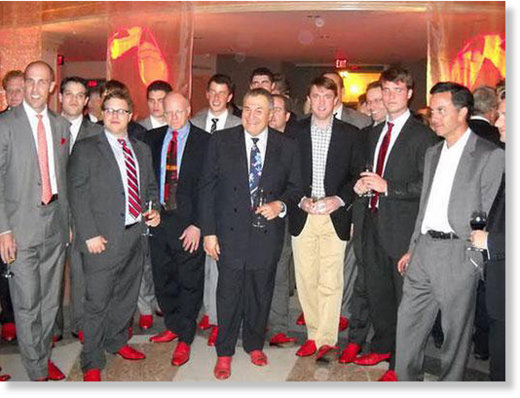 "What's in a shoe color? Some say a sign, a marker, of something very dark."
Why the red shoes Tony Podesta?
"It has come to my attention that many public figures suspected of being Satanists are wearing red shoes.

So why are red shoes a big deal?
Because it is a Satanic symbol of child/human sacrifice. During the sacrificial rituals, the Satanists wear red shoes (claimed to be made of human leather) so when blood gets on the shoes, it does not show.
In the following snapshot, we can see Alex Soros, the son of George Soros, wearing red shoes at a Spirit Cooking dinner — the description for the picture is "Devil's Heaven #TonightWeDineInHell!":
His father, the notorious George Soros, is also connected to the PizzaGate scandal. It has been discovered that Soros, an international multi-billionaire, was an important donor to a small pizza shop, the now infamous Comet Ping Pong, which was at the center of the PizzaGate scandal.
Its owner, James Alefantis, (who was named by GQ as one of the 50 most powerful people in Washington — the virtually unknown owner of a small pizza shop, is one of the most powerful people in D.C.?) also received direct payments from American Bridge PAC, one of the groups heavily sponsored by George Soros….