A NOTE FROM PAULA:  I thought my next installment in this series would be about a video I posted related to communism, which I've discovered is also related to the Illuminati. But today is National Prayer Day, and after watching some things that are happening in DC, I think we need to go here first.
Please scroll down for commentary, after these two news articles
.
Notice that the first one is from 2007.
And as you read remember the

key names
Rockefeller
and
the
Bilderberg Group

…
————————————————————————————————–
WATCHING THE BILDERBERG GROUP
Investigative reporter exposes Bilderbergers
New book reveals how members of secret societies win White House
Ever since Democrat Adlai Stevenson challenged Republican Dwight D. Eisenhower in 1952 and 1956, the odds have significantly favored those with membership in the elite groups.
In 1960, both John F. Kennedy and Richard M. Nixon were members….
In 1976, it was CFR Republican Gerald Ford losing to CFR Democrat Jimmy Carter.
In 1980, Ronald Reagan was not a member, but his running mate, George H.W. Bush, was. So were both of his opponents – Carter and independent John Anderson. Assuming office, however, Reagan quickly named 313 CFR members to his team….
In 1992, Bush was challenged by an obscure governor from Arkansas, Bill Clinton, who won the "trifecta" by being a member of the CFR, Trlateral Commission and Bilderberg Group. He was also a Rhodes scholar – another favored credential of the worldwide elite.
In 1996, Clinton was challenged by CFR member Bob Dole.
In 2000, CFR member Al Gore ran against non-member George W. Bush, but his running mate, Dick Cheney, was.
In 2004, Bush was challenged by CFR member John Kerry.
"David Rockefeller, whose family financed the CFR, is a common denominator among these parallel groups," writes Estulin. "Not only is he the CFR chairman emeritus, but he also continues to provide financial and personal support to the TC, CFR and Bilderberg Group."
What is the agenda behind these groups, which Estulin says are comprised of "self-interested elitists protecting their wealth and the investments of multinational banks and corporations in the growing world economy at the expense of developing nations and Third World countries"?
"The policies they develop," he writes, "benefit them as well as move us towards a one-world government."
Those questioning Estulin's conclusion as mere speculation need only recall organizational financer David Rockefeller's own words as recorded in his "Memoirs."
"Some even believe we are part of a secret cabal working against the best interests of the United States, characterizing my family and me as 'internationalists' and conspiring with others around the world to build a more integrated global political and economic structure – one world, if you will," he wrote. "If that's the charge, I stand guilty, and I am proud of it."...
Later, U.S. News and World Report would have this to say about the Carter administration: "The Trilateralists have taken charge of foreign policy-making in the Carter administration, and already the immense power they wield is sparking some controversy. Active or former members of the Trilateral Commission now head every key agency involved in mapping U.S. strategy for dealing with the rest of the world."
In 1992, Estulin concludes Bill Clinton was similarly "anointed" for the presidency at the 1991 Bilderberg Conference in Baden-Baden. Following the meeting, Clinton immediately took a trip to Russia to meet with Soviet Interior Minister Vadim Balatin, then serving Mikhail Gorbachev. Later, when Boris Yeltsin won the presidential election, Bakatin became the new chief of the KGB.
The meeting went unnoticed in most of the press, with the exception of the Arkansas Democrat, whose headline told the story: "Clinton has powerful buddy in U.S.S.R – New head of KGB."
Estulin's book, first written in 2005 in Spain, has been translated into 24 languages, most recently this English edition. He has covered the Bilderberg Group as a journalist for more than 15 years.
Read the entire article at http://www.wnd.com/2007/11/44440/#bqp5ho16qbwImmkK.99
————————————————————————————————
KEEPING AN EYE ON RUDY
Giuliani remarks on hush money may have added to Trump woes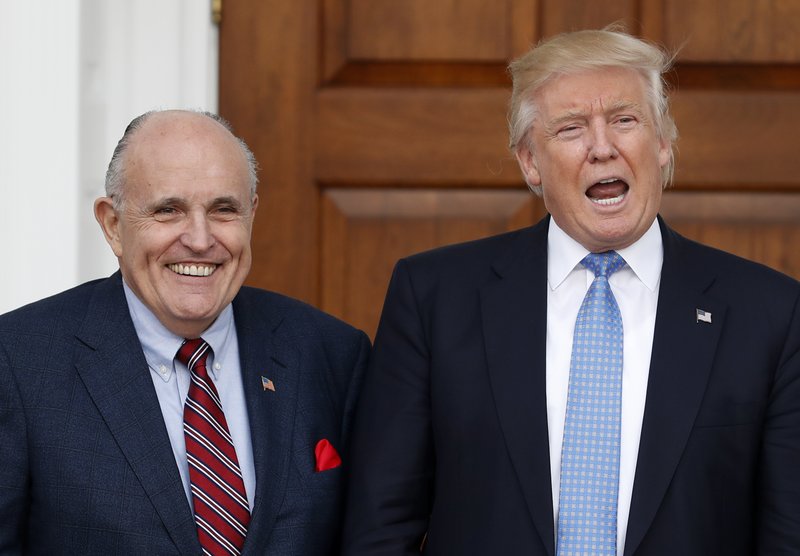 WASHINGTON (AP) — Rudy Giuliani may have added to the legal headaches of his new law client and old friend, President Donald Trump, when he drew a link Thursday between a hush money payment to a porn actress and the potential fallout if her allegations of a tryst with Trump had gone public before the 2016 election.
Giuliani, the former New York City mayor and U.S. attorney, said in a series of interviews that Trump reimbursed his personal lawyer, Michael Cohen, for a secret $130,000 payment to adult-film star Stormy Daniels in October 2016. Trump himself acknowledged the reimbursement in tweets Thursday morning after previously denying he knew about the payment….
Questions swirled Thursday about why Giuliani and Trump decided to acknowledge that the president had reimbursed Cohen….
Former New Jersey Gov. Chris Christie, a Republican, embraced a similar possible explanation.
"You know, there's an old saying in the law: 'Hang a lantern on your problems.' So he comes in, he knows that there's been different stories being told about this payment and how it was made," Christie, a friend of Trump's, told ABC News. "So the fact is that Rudy has to go out there now and clean it up. That's what lawyers get hired to do. So he goes out there and he puts it out rather than having some reporter give breaking news that the president reimbursed it."
Associated Press writers Jill Colvin, Chad Day and Zeke Miller contributed to this report.
ENTIRE ARTICLE AT: https://apnews.com/f84d92ab647142b0ac7b34d001baf7c7
————————————————————————————————–
I'll start with what you just read in the second article. Specifically the quote from Chris Christie: "So the fact is that Rudy has to go out there now and clean it up. That's what lawyers get hired to do. So he goes out there and

he puts it out rather than having some reporter give breaking news

that the president reimbursed it."
Christie may be right on. But a web search shows that there is mention of Christie being a "fraudster" and having connection with "the Rockefeller group" during superstorm Sandy in 2012. And there are several articles pointing to Rudy's pandering to Rockefeller and other Bilderberg elites. Bottom line:

We need to keep an eye on former Mayor of New York

, Rudy Giuliani. (For now, Christie is not a threat.)

So what about the "tools" I mentioned in the title? I've been at this since 1995, and I've learned a few things along the way that I will share with you …
1. 

Do NOT surf the web for things you know nothing about

. This includes the things that I'm covering on my blog. I already know I'm being tracked. You don't need to put yourself in that position.
2.  Understand that

not everything you read on the Internet is worthy of sharing.
3. 

Comparing several articles for common and conflicting "facts" is essential when  searching for truth

about an individual or an issue. Look for "connections" between multiple sources.
4.  If someone challenges you in a conversation,

double check your "facts" and sources before responding

. Attitude and humility are also essential once you've made the choice to become informed about what's going on in secret!
5. 

Be very careful what you say and who you speak to

about secret societies! Not everyone will immediately — or perhaps never — buy into what you believe (know) to be true. USE DISCRETION!
6. 

Pray OFTEN

to make sure that the Holy Spirit is in tandem with your learning process. Read OFTEN the "armor of God" passage, Ephesians 6:10-18. We are dealing with satanic entities here. Do not take that lightly!
7.

Be aware that studying these things can negatively affect your personality

— your thoughts and emotions, and your behavior toward others. Take inventory often to discern whether you are following my blog out of curiosity or in response to a genuine call to ministry.
WE MUST PRAY FOR DISCERNMENT FOR PRESIDENT TRUMP!
I have said this many times over the years — to God and anyone who would listen: I did not choose this ministry. I was commissioned in January 1995 by the Holy Spirit, and even when I have begged him to give me permission to abandon this stuff, He continues to grab my attention with related information that comes my way and can't be ignored.
We are going to get to the connections between communism and the man who started the Illuminati — Adam Weishaupt. But I have to go where the Spirit leads.
" Finally, be strong in the Lord and in his mighty power.
Put on the full armor of God, so that you can take your stand against the devil's schemes. For our struggle is not against flesh and blood, but against the rulers, against the authorities, against the powers of this dark world and against the spiritual forces of evil in the heavenly realms.
Therefore put on the full armor of God, so that when the day of evil comes, you may be able to stand your ground, and after you have done everything, to stand.
" Stand firm then, with the belt of truth buckled around your waist, with the breastplate of righteousness in place, and with your feet fitted with the readiness that comes from the gospel of peace.  In addition to all this, take up the shield of faith, with which you can extinguish all the flaming arrows of the evil one.  Take the helmet of salvation and the sword of the Spirit, which is the word of God. 
And pray in the Spirit on all occasions with all kinds of prayers and requests." (Ephesians 9:10-18, NIV)